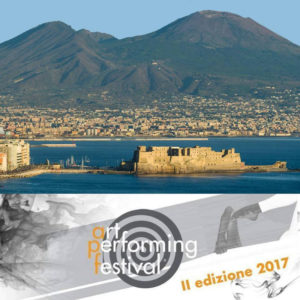 Cosa è avvenuto nella prima parte della terza edizione Salento Art Tour
La manifestazione artperformingfestival®, ideata ed organizzata dal curatore Gianni Nappa e promossa dallo studio di marketing e comunicazione GlobalStrategies S.r.l., dopo il grande successo delle prime due edizioni, che si sono tenute a Napoli nel 2016 e 2017, quest'anno sarà in tour, con una prima tappa nei comuni più rappresentativi del fermento artistico che regna nel Salento.
Il Salento espressione della Grecia, con i suoi spettacolari centri barocchi, con Lecce, Minervino di Lecce, Galatina, dove ancora oggi vive una società legata ai valori della terra natia, dei consessi familiari arcaici, delle corti come identità della famiglia, si presta con la sua immanenza all'incontro tra l'arte contemporanea e la società, che artperformingfestival® proietta da Napoli, città super caotica, a realtà di silenzio, di lavoro nelle case, per poi ritrovarsi in piazza la domenica. Una dimensione che spingerà gli artisti ad azioni nelle strade solitarie dei borghi, alla ricerca di condizioni di condivisione spontanea, alla riscoperta del "suono" delle giornate, tra gatti e lontane voci in interni. Un abbraccio del mondo della performance ai luoghi dello storico passaggio dei Templari, dei commerci della pelle e della porta naturale sul Mediterraneo, che pure ha luoghi rinomati e vacanzieri di grande richiamo. La bellezza non è solo nei luoghi, ma soprattutto nell'anima di un popolo che, fiero delle sue tradizioni, esprime grandi energie nel campo dell'arte contemporanea.
Un festival dedicato alla sperimentazione ed alla performance, che già nelle prime due edizioni ha visto artisti internazionali e nazionali chiamati ad interpretare nei luoghi storici ed architettonici di pregio, l'unione tra l'arte contemporanea ed il turismo. Nella convinzione che la traccia dei linguaggi contemporanei sia nell'interdisciplinarietà, e rivolta al "mondo nel sé" e il "sé nel mondo", la scelta curatoriale ha privilegiato l'aspetto concettuale, e la ricerca di artisti, non solo convalidati dalla scena internazionale, ma soprattutto portatori di libertà ed autonomia rispetto al mercato ed ai suoi prodotti "riciclati". Non è la finanza che rende l'arte di mercato, è l'attualità dei linguaggi, la forza empatica della condivisione, la costruzione di percorsi alternativi, non solo alle gallerie d'arte, ma soprattutto alla ricerca dell'inconsapevolezza delle persone che accoglieranno i messaggi senza condizionamenti di parte.

Il taglio del nastro avverrà a Minervino di Lecce, presso Palazzo Scarciglia, dove sarà presentata una selezione di artisti visivi e performers internazionali che il curatore Gianni Nappa ha inteso inserire come emblematici delle sperimentazioni in atto e come resoconto del percorso intrapreso tre anni orsono con artperformingfestival®.
Nella elegante dimora settecentesca costruita dalla famiglia Scarciglia, saranno esposte opere di Diego Dominici, Franco G. Livera, Nicca Iovinella, Renata Petti, Daniele Rosselli & Loris Lombardo, Alessandro Graziani, Pantaleo Musarò, Carmela Cosco, Massimiliano Manieri & Pablo Peron, Stefano Bonazzi.
Performance serata inaugurazione
NULLA E' COME APPARE (atto perform/attivo)
a cura di Massimiliano Manieri con la partecipazione di Simona Schirinzi
CLOACA MAXIMA (Progetto fotografico)
a cura di Massimiliano Manieri & Pablo Peron in collaborazione con Silvia Persica
Organizzazione: Gianni Nappa (curatore), Ester Esposito (GlobalStrategies Srl. Comunicazione), Pantaleo Musarò (artista e co-organizzatore), LabConcept S.r.l.
Ufficio stampa e comunicazione Associazione artperformingfestival & GlobalStrategies S.r.l.
LabConcept S.r.l.
Gianni Nappa (+39 347 5452737)
What happened in the first part of the third edition of Salento Art Tour

The artperformingfestival® event, conceived and organized by the curator Gianni Nappa
and promoted by the marketing and communication firm GlobalStrategies Srl, after the
great success of the first two editions, which took place in Naples in 2016 and 2017,
this year will be on tour, with a first stop in the most representative municipalities
of the artistic ferment that reigns in Salento.
Salento is the expression of Greece, with its spectacular baroque centers, with Lecce,
Minervino di Lecce, Galatina, where still today lives a society linked to the values ​​
of the homeland, of archaic family gatherings, of courts as identity of the family, 
lends itself to its immanence to the encounter between contemporary art and society, 
which artperformingfestival® projects from Naples, a super chaotic city, to reality 
of silence, of work in the houses, and then find itself in the piazza on Sunday. 
A dimension that will push artists to actions in the lonely streets of the villages, 
in search of conditions of spontaneous sharing, the rediscovery of the "sound" of the
days, between cats and distant voices in the interior. A hug from the world of performance
to the places of the historic passage of the Templars, the trade of the skin and the 
natural gateway to the Mediterranean, which also has renowned places and vacationers
of great appeal. Beauty is not only in places, but above all in the soul of a people
that, proud of its traditions, expresses great energies in the field of contemporary
art.
A festival dedicated to experimentation and performance, which in the first two 
editions has seen international and national artists called to interpret the union 
between contemporary art and tourism in prestigious historical and architectural 
sites. In the belief that the trace of contemporary languages ​​is interdisciplinary, 
and addressed to the "world in the self" and the "self in the world", the curatorial choice has privileged the conceptual aspect, and the search for artists, not only validated by the scene international, but above all carriers of freedom and autonomy with respect to the market and its "recycled" products. It is not the finance that makes the art of the market, it is the actuality of the languages, the empathic force of sharing, the construction of alternative routes, not only to art galleries, but above all to the unawareness of the people who will welcome messages without part conditioning.
The ribbon will be cut in Minervino di Lecce, at Palazzo Scarciglia, where a 
selection of visual artists and international performers will be presented, which 
the curator Gianni Nappa intended to include as emblematic of the ongoing 
experiments and as an account of the path undertaken three years ago with 
artperformingfestival ®.
In the elegant eighteenth-century house built by the Scarciglia family, works by 
Diego Dominici, Franco G. Livera, Nicca Iovinella, Renata Petti, Daniele Rosselli & 
Loris Lombardo, Alessandro Graziani, Pantaleo Musarò, Carmela Cosco, Massimiliano 
Manieri & Pablo Peron, Stefano Bonazzi will be exhibited .
Performance evening inauguration

NOTHING IS HOW TO APPEAR (perform / active act)

edited by Massimiliano Manieri with the participation of Simona Schirinzi

CLOACA MAXIMA (Photographic project)

edited by Massimiliano Manieri & Pablo Peron in collaboration with Silvia Persica

Organization: Gianni Nappa (curator), Ester Esposito (GlobalStrategies Srl. Communication), Pantaleo Musarò (artist and co-organizer), LabConcept S.r.l.

Press Office and Communication Association artperformingfestival & GlobalStrategies S.r.l.

LabConcept S.r.l.

Gianni Nappa (+39 347 5452737)